As a user, it is simple to create a Scheduled Report.
Step 1 – Click on the Fleet tab, and then the Current subtab.
Step 2 – Enter criteria to narrow your results (Note: it is not necessary to enter all search criteria)
You can use any criteria in the top search area, but most scheduled reports focus on the following criteria, select:
Make
Fuel
Odometer
Location
Step 3 – Click Search to see the results of your search criteria.
Step 4 – Click Create Scheduled Report to generate the report. You will be automatically taken to the Scheduled Reports page on the My Account tab and under the Scheduled Reports subtab.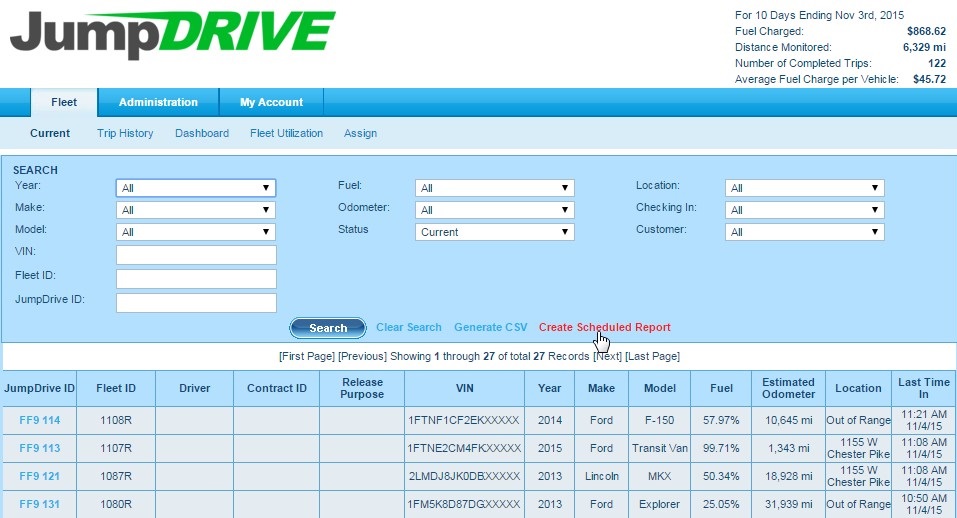 Step 4 – We strongly recommend that you rename your report to a specific title so you can remember and refer to it later.
Step 5 – Select the Frequency and Time for the report to be emailed, and enter the Email Addresses you wish the report to be sent to. If entering multiple email addresses, separate each one with a comma.
If you have any questions, concerns, or suggestions, please contact us at support@jumpdrive.com or call 888 533 4890.